We're not a fashion blog. Nor will we ever be. We are all politics, all the time, and we love that. We enjoy bringing you the truth that the rest of the media will not serve you. But sometimes you need to deviate and read between the lines a bit, even if that sometimes involves fashion. And when you have a candidate like Donald Trump who's wife is a former supermodel, the political and fashion world is bound to cross paths. But TRUST me, this is something you're going to want to hear.
Melania Trump has not been at the forefront of this campaign and that is by design. She has said this is Donald's show, not hers, and that is incredibly respectful as most people would want to gravitate to the limelight. Instead, she speaks big when needed, like at the RNC.
Or like when audio comes out about Donald from 11 years ago and then wears something to troll the Clintons and show them that she doesn't care about what he did 11 years prior. Seriously, this is amazing.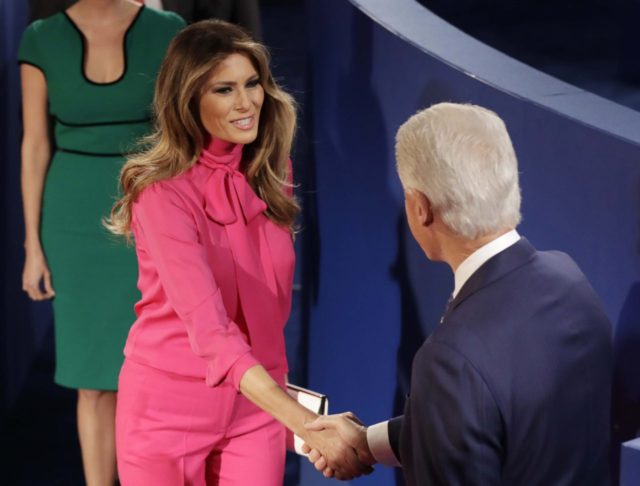 Melania Trump, the wife of Republican presidential nominee Donald Trump, wore a Gucci blouse called a "pussy bow"to the second presidential debate.
The potential First Lady's wardrobe choice came as her husband faced blistering criticism over a recorded conversation in 2005 in which he joked about groping women. One of the words he used included a crude reference to the female anatomy.
In addition to apologizing several times since the video emerged, Trump also pointed at former President Bill Clinton's behavior towards women and the way in which Democratic nominee Hillary Clinton treated his accusers.
This was of course in response to the audio of Trump saying "I just grab them by the pussy," on a tape from 2005. The Trump campaign said it was unintentional, but pardon me if I thnk that's a load. She did it as a response to the Clintons illegally (again) obtaining something about Donald that could be smearing.
After the debate, Melania Trump greeted Bill Clinton — wearing her pussy-bow, of course.
The Clintons attended the Trumps' wedding several years ago, long before their political rivalry emerged.
Social media exploded after the debate with speculation about Mrs. Trump's blouse. "If Melania Trump is trolling us, this would be the sickest thing ever. I detest conspiracy theories, but a man can still dream," wrote Sky Palma of Dead state.
A Trump campaign spokesperson reportedly said that Mrs. Trump's sartorial choice was "unintentional."
Personally, I think this was a classy yet brutal response to the Clintons. Something saying, "we get it, and we don't care." I hope there's something called the "adulterer" in women's fashion that she can wear next time she shakes hands with Bill.
(Source: Breitbart)